7 Spanish Phrases: Saint Valentine's Sign-Offs
¡Hola amigos!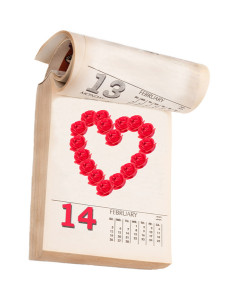 Hey, Julio here! ¿Cómo va todo?

Well, here we are…

… in just a few days, Valentine's Day will be all upon us. Have you sent a card to your Spanish speaking lover? Well, if not, you will love me for this!

Click to Listen to this lesson:

[audio:https://www.esaudio.net/wp-content/uploads/2015/02/004-7-Spanish-Phrases-Saint_Valentines_Sign-offs.mp3]

First things first!

Grab a good card and write your message in English, if that is your native language. After all, if you cannot express yourself in Spanish yet, we can't do miracles in just 2 minutes. However, at the end of your love message, you can sign off by using one of these amazing phrases. You would be surprised at how much of an impact these simple sign-offs produce. The other person feels you are trying to reach him or her at a more intimate and profound level. After all, nothing is more ingrained in us that our native laguage and they will love you even more for it.

So let's get down to business…

Feliz Día de San Valentín / Feliz Día de los Enamorados … – Happy Valentine's Day

Te amo con todo mi corazón… – I love you with all my heart

Tuya para siempre… (For a guy that will be "tuyo") – Always Yours

Con Amor... With Love

Muchos besos… – Lots of kisses

¡Te quiero mucho!… – I love you very much. Using "querer" to express love is a step below "amo" in intensity. (Listen to the audio for more info on this)

Gracias por hacerme tan feliz… -Thank you for making me so happy

So there you have it

Seven super sexy Spanish phrases to impress the love of your life with. Don't forget to leave a comment or suggestions below. I love knowing how you guys are getting on with this stuff. .

Don't miss next week's emai which will close the trilogy on Valentine's Day specials. In it I will share with you some great ways to tell your partner how much you have enjoyed their company for the evening and what a great time you've had.


¡Mucha suerte!
"The Journey is more important than the destination" (Don Juan)
www.thespanishsubjunctive.com
PS If you want to get more lessons like this one, sign up to our free newsletter!
Comments
comments